Philippe Coupey brings Dogen's Fukanzazengi to the 21st Century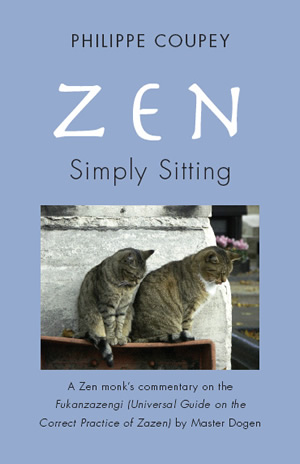 "I have no doubt whatsoever concerning the absolute necessity of sitting in front of a wall with no purpose and no goal," declares Zen monk Rei Ryu Philippe Coupey in the first chapter of his latest book, Zen, Simply Sitting.
But "a long practice is not always easy," he admits, "especially when you realize that it involves putting up with other people."
Coupey's candor and conviction permeate Simply Sitting, his commentaries on Master Eihei Dogen's Fukanzazengi, a central text in the Zen tradition. Written by Dogen in 1227 and revised by him in 1242-43, the original "Universal Guide to the Practice of Seated Meditation" is a short work which aims to transmit the essence of Zen practice as Dogen learned it from his master, Tendo Nyojo. It contains a surprising amount of concrete how-to ("place your right foot on your left thigh…"), but also refers to important moments and figures in Zen history to explain why such practice is necessary.
"I think that everyone who practices zazen should know this text," says Coupey in his preface to the book. "Not necessarily by heart…but by thoroughly understanding its meaning." His commentaries will help today's reader do just that. Coupey has a gift for making the here and now part of the natural flow of Zen history, subtly showing us how the teaching and practice continue much as they did hundreds, even thousands of years ago: the master-disciple relationship, the posture, our distractions and failings, our aspiration to something higher.
His distinct mixture of old and new can be seen in the list of the "Zen" stories he tells in the course of the book, where the well-known "Gutei Holds Up His Thumb" and "The Parable of the Lost Son" appear alongside "Shusso Can't Find the Rave Party" and "Two Motorbikes for the Monk." This inclusion of the contemporary actually gives the book a timeless quality, and makes us feel a real connection with the Zen ancestors.
Hohm Press, Prescott Arizona, 2006
$17.95
120 pages
ISBN:978-1-890772-61-1
paperback 5.5 X 8.5 inches
No Place Like Hohm
Zen, Simply Sitting is published by Hohm Press, a publishing house founded by the Western Baul guru Lee ("Mr. Lee") Lozowick (1943-2010).
Phlippe Couepy and Lee Lozowick at the Café de la Liberté, Paris Montparnasse